Resources to Support the Patient Pathway
remedē® Implant Procedure
The remedē System implant procedure is typically performed by electrophysiologists (cardiologists specializing in cardiac device placement). The procedure is similar to contemporary techniques used to implant cardiac implantable electronic devices (CIEDs).1,2 The implant procedure is performed in the cardiac electrophysiology laboratory under conscious sedation as the patient and physician must communicate during stimulation lead testing. Patient preparation and antibiotics are comparable to those used for (CIED) implants.2 The remedē System is placed in the pectoral region, typically on the right side. A single stimulation lead is placed in either the left pericardiophrenic vein or the right brachiocephalic vein. A sensing lead may be placed into the azygous vein to detect respiration. The remedē Pivotal Trial demonstrated a 97% implant success rate, including those patients with concomitant cardiac devices.1
Potential adverse events associated with the implant procedure are similar to those of cardiac device procedures and are detailed in the remedē System Implant and Clinician Use Manual which can be downloaded here.
See How the remedē System is Implanted
Resources for the remedē implant procedure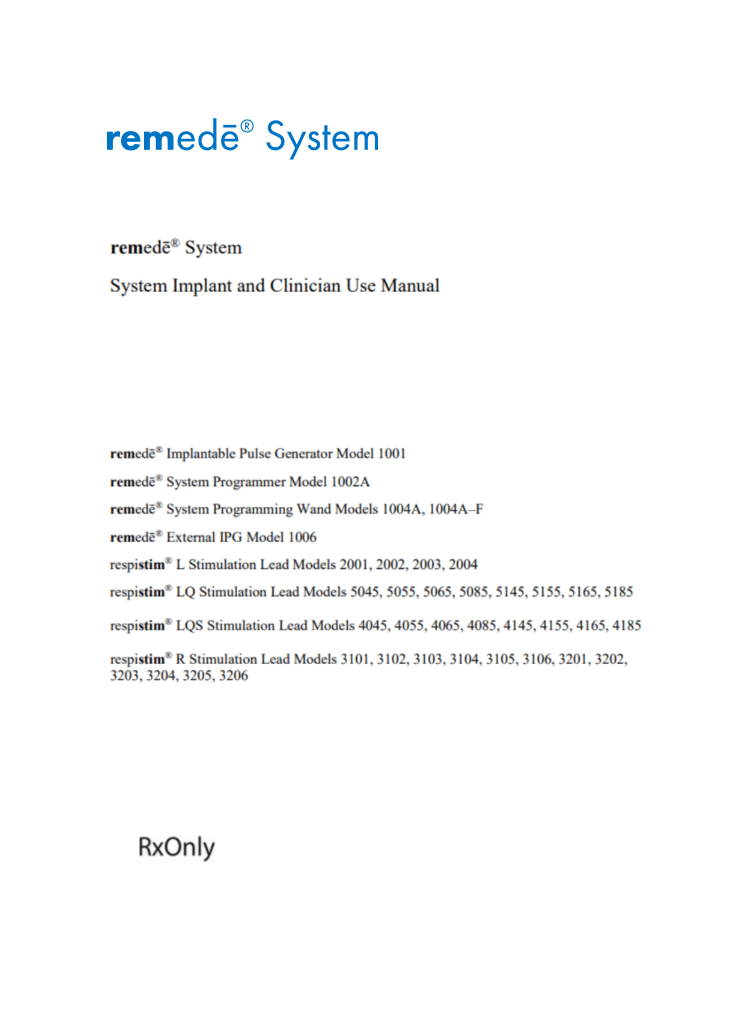 remedē Physician Manual (U.S.)
Inventory Reference Guide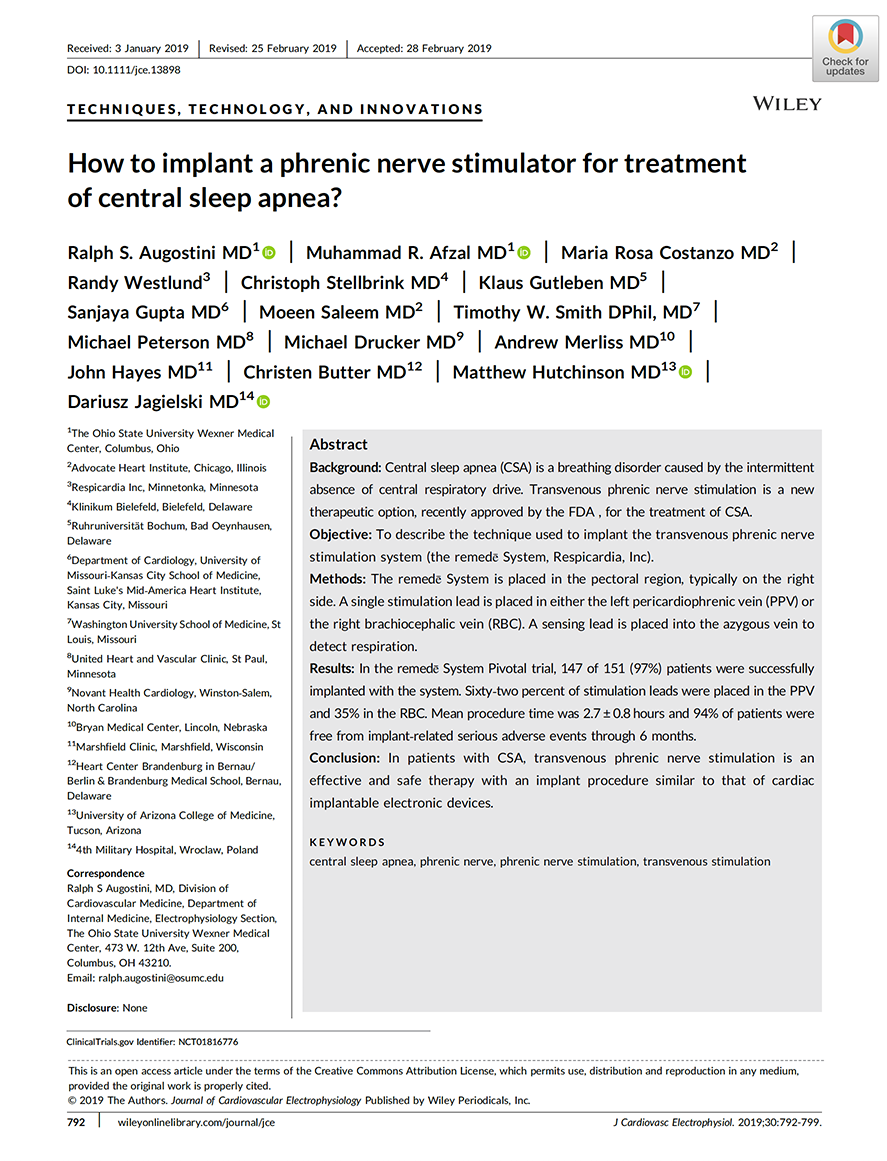 Journal of Cardiovascular Electrophysiology Article, "How to Implant a Phrenic Nerve Stimulator for Treatment of Central Sleep Apnea"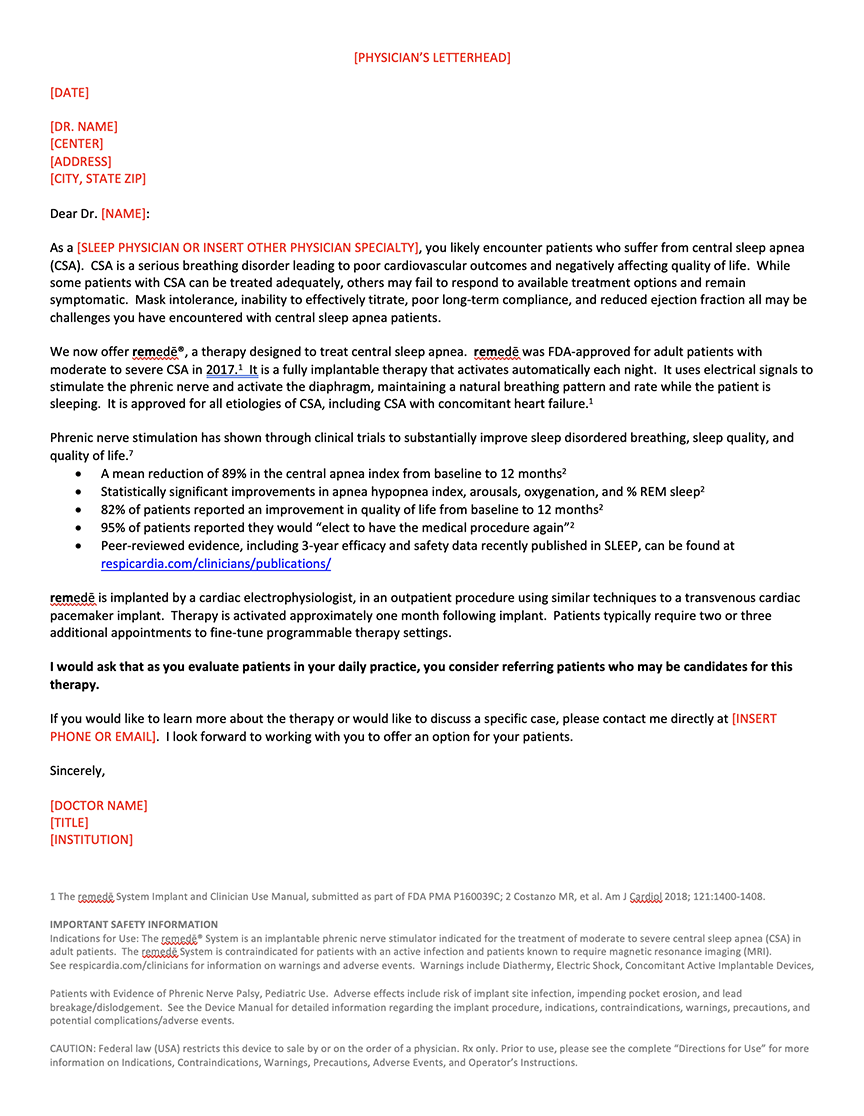 Costanzo, MR, et. al. Transvenous Neurostimulation for Central Sleep Apnoea: A Randomised Controlled Trial. Lancet 2016; 388: 974–82.
Cowie MR, Wegscheider K, Teschler H. Adaptive Servo-Ventilation for Central Sleep Apnea In Heart Failure. N Engl J Med 2016; 374: 690–91.